9-Ele.-28-Ohm-DK7ZB-Yagi

5,00 m Boom, Gain 12.5 dBd

The picture shows the antenna at PD0B, for more construction details see:
The 4 x 9 El.-Group

built by

Kirk, VK2MER
4x9-Element stacked by Oene, PA3CWN

He is working EME with the group in H-configuration.

2x9-El.-stacked by Tibor, HA1WA
2x9-Element stacked

by Peter, PA4PS

Stacking distance 3,50m

More information about the construction at his website: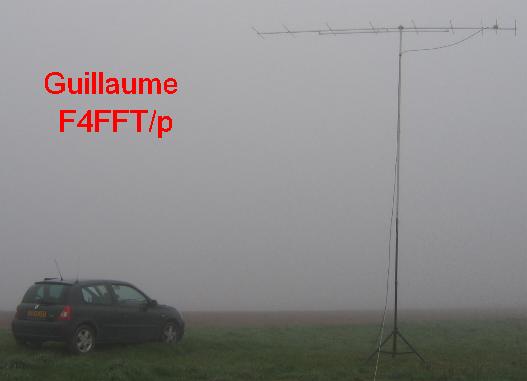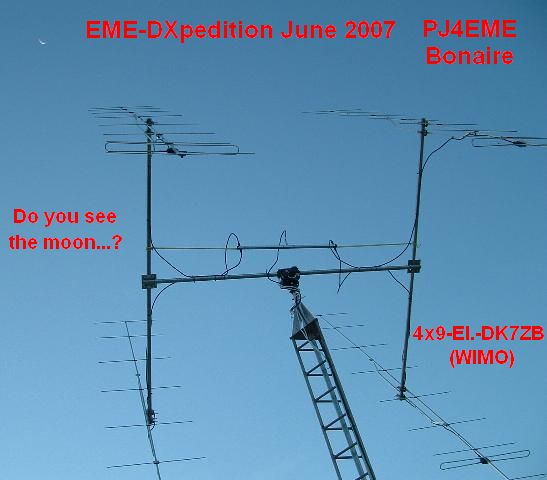 From 8-25 June-2007 Peter, PA3CNX and Rene, PE1L had an EME-activity from Bonaire (PJ4)
Result: 273 EME-QSOs and 51 DXCC Link to PJ4EME
The antennas are 50/200-Ohm modified Yagis with folded dipoles for WIMO Link to WIMO
(The 28-Ohm-Yagi has a slightly better performance!)

2x9-El.-Yagi

by Mark, CT1JFC

EME with 90Wtts into

35m coax and 2 Yagis

Anatoly, UN7BBJ

with his 9-El.-Yagis
Element-lengths in mm for the 28-Ohm-Yagi. It is recommended to use the 10mm, 8mm or 6mm elements for best results.
4mm-elements have more losses, lower gain and the bandwidth is smaller.
The given length of the radiator element is from tip to tip, including 10mm spacing for the insulated part.
Updated with 12.7 mm (1/2 inch) elements 08-Sept-2009, updated with 9,5 mm (3/8 inch) 25-Apr-2010
| | | | | | | | | | |
| --- | --- | --- | --- | --- | --- | --- | --- | --- | --- |
| Diam. | Ref | Rad | D 1 | D 2 | D 3 | D 4 | D 5 | D 6 | D 7 |
| 12.7 mm | 1017 mm | 965 (12.7 mm) | 930 mm | 900 mm | 882 mm | 873 mm | 864 mm | 880 mm | 864 mm |
| 10 mm | 1017 mm | 972 (10 mm) | 939 mm | 909 mm | 892 mm | 883 mm | 874 mm | 890 mm | 874 mm |
| 9.5 mm | 1018 mm | 973 (9.5 mm) | 941 mm | 911 mm | 894 mm | 885 mm | 876 mm | 892 mm | 876 mm |
| 8 mm | 1020 mm | 977 (8 mm) | 947 mm | 917 mm | 902 mm | 891 mm | 882 mm | 898 mm | 882 mm |
| 6 mm | 1024 mm | 983 (6 mm) | 953 mm | 925 mm | 910 mm | 899 mm | 892 mm | 906 mm | 890 mm |
| 4 mm | 1028 mm | 989 (4 mm) | 963 mm | 936 mm | 922 mm | 912 mm | 906 mm | 918 mm | 905 mm |
Element-positions
| | | | | | | | | |
| --- | --- | --- | --- | --- | --- | --- | --- | --- |
| Ref | Rad | D 1 | D 2 | D 3 | D 4 | D 5 | D 6 | D 7 |
| 0 mm | 345 mm | 615 mm | 1175 mm | 1870 mm | 2675 mm | 3505 mm | 4345 mm | 4980 mm |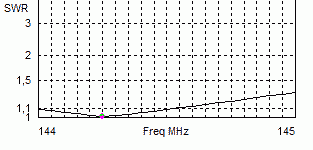 Current-profile


Plots for 144,3MHz with EZNEC +5