17-Ele.-28-Ohm-DK7ZB-Yagi (12,15m Boom)

The 17-Ele-28-Yagi ready for EME-use at the station of

DL1DWI

(Gerhard)
Lengths and positions of the Elements
The given length of the radiator element is from tip to tip, including 10mm spacing for the insulated part.
Updated data 09-Sept-2009 with 12,7mm (1/2 inch) elements and 6mm-elements. The Yagi in the VE7BQH-list has 6mm elements, with 8mm or 10mm the bandwidth is greater and the antenna has slightly more gain, butmore windload.
| | | | | | |
| --- | --- | --- | --- | --- | --- |
| Element | Position | Length (12,7mm) | Length (10mm) | Length (8mm) | Length (6mm) |
| Ref | 0mm | 1020mm | 1024mm | 1025mm | 1030mm |
| Rad | 345mm | 980mm (12,7mm) | 985mm (12mm) | 989mm (12mm) | 995mm (12mm) |
| D 1 | 520mm | 945mm | 956mm | 964mm | 972mm |
| D 2 | 1015mm | 908mm | 918mm | 926mm | 936mm |
| D 3 | 1690mm | 891mm | 901mm | 909mm | 919mm |
| D 4 | 2505mm | 873mm | 883mm | 891mm | 899mm |
| D 5 | 3365mm | 863mm | 873mm | 881mm | 891mm |
| D 6 | 4260mm | 855mm | 865mm | 873mm | 883mm |
| D 7 | 5165mm | 851mm | 861mm | 869mm | 879mm |
| D 8 | 6070mm | 849mm | 859mm | 867mm | 877mm |
| D 9 | 6975mm | 846mm | 856mm | 864mm | 874mm |
| D 10 | 7880mm | 844mm | 854mm | 862mm | 872mm |
| D11 | 8785mm | 839mm | 849mm | 857mm | 867mm |
| D 12 | 9690mm | 838mm | 848mm | 856mm | 866mm |
| D 13 | 10595mm | 838mm | 848mm | 856mm | 866mm |
| D 14 | 11410mm | 854mm | 864mm | 872mm | 882mm |
| D 15 | 12110mm | 807mm | 817mm | 825mm | 835mm |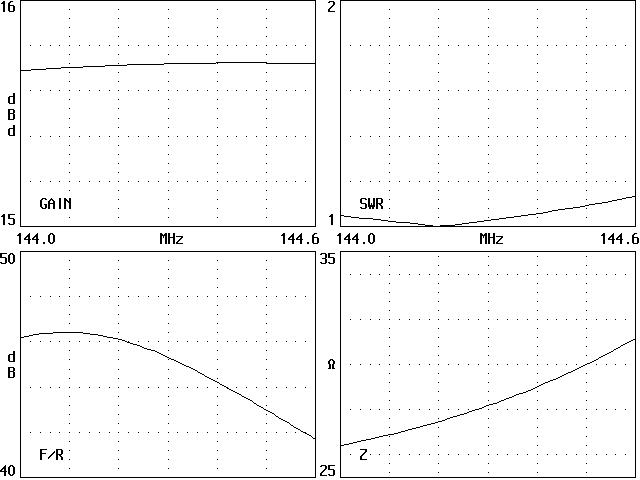 Element-current-profile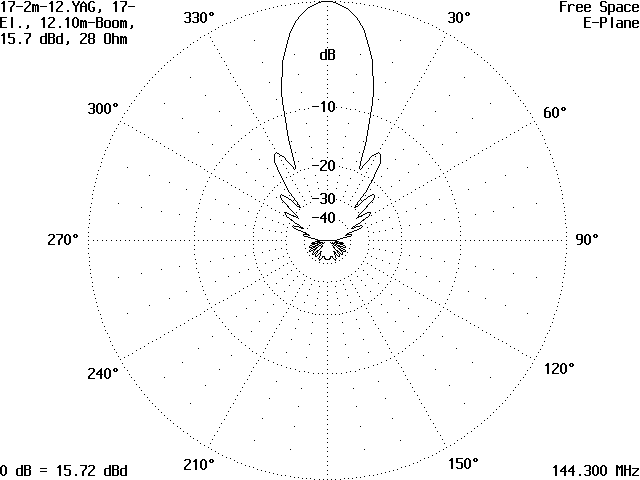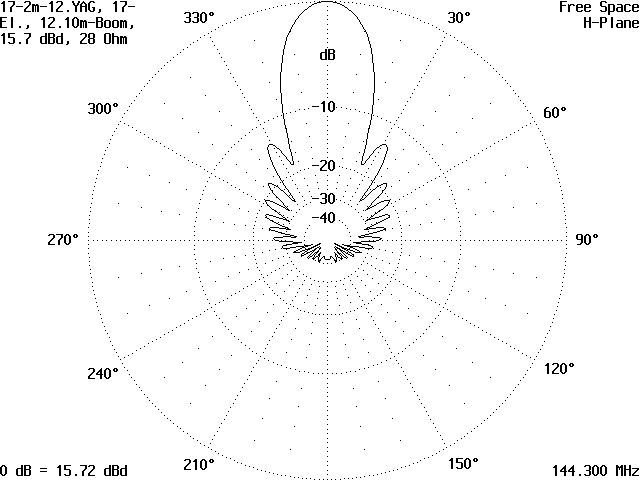 4x17-Ele.-H-configuration, Gain 21,72dBd (without stacking losses), G/T=+0,12
Vertical 5,19m, horizontal 5,01m