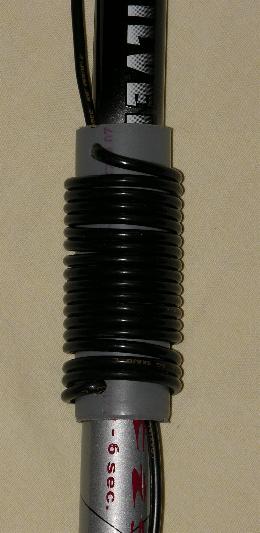 Left:
The portable version of the sloping vertical dipole has a coax choke, 15 windings on a 50mm-PVC-tube. Simple and effective!
Right:
As with the real vertical dipole ist is possible to bend one part to a sloping vertical dipole and feed with 2-wire-open line (Wireman or homemade) and a symmetrical ATU. The radiation patterns are similar to the vertical dipole.
This is a good choice for portable operation from a balcony with a fishing rod as support for the vertical part.
If you use three "radials" in 120°, we get a "Multiband-Triple-Leg", the three "radials" can be used as supporting ropes.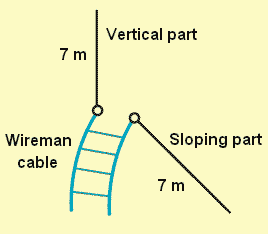 For the impedance transformation special Wireman-lengths are useful for the connection to the ATU:
2,75 m, 4,05 m or 9,00 m
With other lengths you will probably to high impedances which cannot be matched by the Tuner.